DOMODEDOVO COMMERCIAL SERVICES
DOMODEDOVO COMMERCIAL SERVICES
Airport's agent responsible for airlines and aviation services operators
Domodedovo Commercial Services was established to ensure effective partnership between Moscow Domodedovo Airport's business units and the airlines.
Optimization of interaction is based on the special units formed to support airlines grouped by their regions and membership in the global airline alliances. This principle makes it possible to apply an individual approach to various types of customers, ensuring the implementation of the company's fundamental customer focus principle.
Responsibilities:
drafting, execution and support to contracts between airlines and business structures of Moscow Domodedovo Airport
as a single point of contact;
settlement of accounts with customers;
standardization and control of quality of the services provided on the premises of Moscow Domodedovo Airport;
development and implementation of the Airport's marketing strategy;
development and implementation of marketing projects jointly with airlines (development of transfer and combined traffic, travel services market etc.);
promotion of services at the aviation and non-aviation markets;
informing customers on current trends at the aviation and non-aviation markets;
informing customers of current and strategic plans of the airport.
Domodedovo Commercial Services Specialists apply innovative marketing technologies to increase the competitiveness of the overall value chain of a flight through the implementation of partnership marketing concepts (airline's business process development and enhancement):
analysis and forecasting of market growth;
promoting the development of the airline's flight network;
joint promotion;
sharing of risks when opening new routes.
Interaction Scheme of airlines with companies of Moscow Domodedovo airport: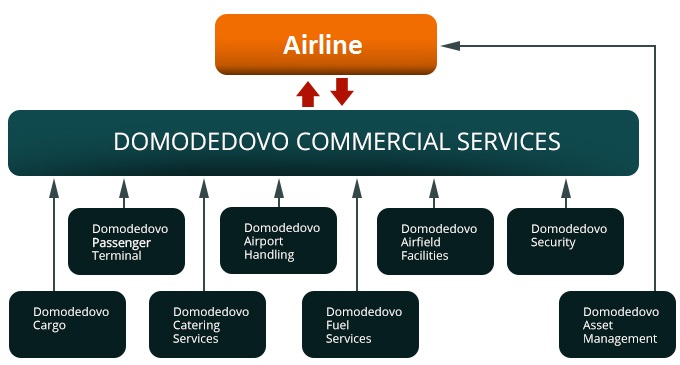 Development plans:
Domodedovo Transfer Service (DTS) project: an increase in transfer traffic sales by attracting new member airlines and expanding the connecting flights range, introduction of the electronic ticket technology;
expansion of services to tour operators, implementation and promotion of the Travel Supermarket project;
expanding the range of services in the tourist area of the airport: installation of travel package terminals incl. flight check-in and package tour purchase.
Address:
LLC DOMODEDOVO COMMERCIAL SERVICES
Bldg 1, Domodedovo Airport, Domodedovo, Moscow Region 142015, Russia