DOMODEDOVO AIRFIELD FACILITIES
DOMODEDOVO AIRFIELD FACILITIES
Management of the airfield infrastructure
The high-tech infrastructure of Domodedovo airfield has enabled the airport to take a leading position in Russia in passenger and cargo traffic.
Key activities of the business unit:
Support to aircraft takeoff and landing at the airport:
maintaining the operational readiness of the airfield pavements (repair, marking, cleaning, lighting);
airfield lighting;
maintaining constant availability of the ground rescue and fire fighting units;
bird hazard control in the vicinity of the airfield;
maintenance in the airfield area (in collaboration with Moscow Center of Automated Air Traffic Control, MC AATC) of the operational readiness of radio equipment, aeronautical wireless and fixed telecommunications and alerting systems.
Utilities and telecommunications at the airport:
airport power supply system;
airport natural gas supply system;
airport's boiler and heating system;
water supply system based on artesian wells;
drainage system;
telecommunications.
Business unit enterprise employs more than 900 people. All of them are highly competent professionals.
Airfield
Moscow Domodedovo Airport was granted the international status in 1992 and serves all types of Russian and foreign-made aircraft.

Takeoff and landing operations per hour
70 to 90
Moscow Domodedovo Airport's share of takeoffs and landings at Moscow Aviation Hub is
39.8%
Airfield area
1 287 ha
…of which engineered pavement
249 ha
Aircraft parking stands
(from Falcon 90 business jets to passenger and cargo wide-body aircraft, such as Airbus 380, Ruslan and Boeing 747-400)
143
Independent runways that can be operated in adverse weather conditions
2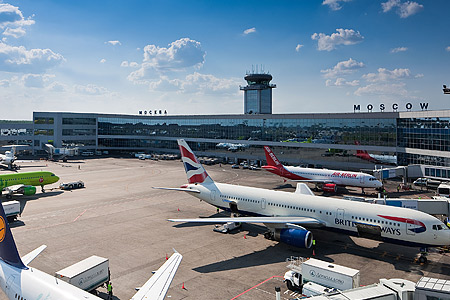 Runways
Both runways at Moscow Domodedovo Airport are certified to category IIIA of the International Civil Aviation Organization (ICAO). This certification allows takeoff and landing operations in adverse weather conditions, greatly reducing flight delays. This is achieved by the use of modern lighting, meteorological, and radio equipment. Runways are spaced for their independent operation in adverse weather conditions (" Technical capability standards of Moscow Domodedovo Airport in accordance with Order 63 of 24.02.2011 by the RF Ministry of Transport")
Dimensions and modern technology at Runway 1 allowed Moscow Domodedovo Airport to become the first and only airport in Russia authorized to receive the largest passenger aircraft Airbus A380.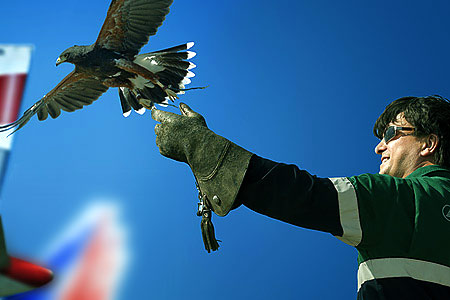 Bird Hazard Control
at Moscow Domodedovo Airport
Bird Hazard Control Unit monitors bird hazard at the airfield to ensure flight safety.
Modern technology is used to reduce bird concentration in the airport area and adjacent territories:
mobile and stationary bioacoustic units;
visual repellents;
bird scarers;
propane cannons;
traps.
Moscow Domodedovo Airport was the first in Russia to use unique patrol birds of prey (goshawks). The use of birds of prey allows reducing bird hazard without unnecessary disturbance caused to the nature by chemicals and fireworks.
Facilities
Power supply to Moscow Domodedovo Airport
Power is supplied to Moscow Domodedovo Airport from two independent external plants operated by OAO MOESK. The airport has its own power supply grid with 72 transformer substations, as well as diesel gen sets ensuring uninterrupted power supply to the airport infrastructure.
Water supply to Moscow Domodedovo Airport
Airport's water supply system includes four artesian wells, pumping station with water tanks and a water supply system with a combined length 29 km. Water quality monitoring is carried out at several levels in accordance with the program of potable water quality monitoring approved by Rospotrebnadzor.
Heating
Heat supply facilities deliver thermal energy to the airport's infrastructure. The use of natural gas, as well as the modern technology used at the central boiler allows firing a cost-effective fuel and minimizing harmful effects on the environment. Currently, the other boilers are being switched to natural gas.
Development plans:
Reconstruction of Runway 2;
commissioning of new apron pavements;
retrofitting the airfield with modern maintenance, fire and emergency technology;
development and implementation of innovative airfield operation modes in the autumn-winter period;
automation of flight navigation, airport pavement monitoring;
installation of modern hardware and software for automatic broadcasting of operational flight information in the airfield area.
Address:
LLC DOMODEDOVO AIRFIELD FACILITIES
Moscow Domodedovo Airport, Domodedovo District, Moscow Region 142015, Russia