News
23 марта 2017 16:59
Moscow Domodedovo Airport and AirBridgeCargo held their 1st joint cargo-spotting event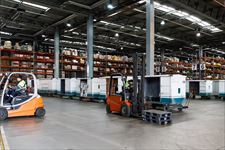 March 23, 2017, Moscow Region. Moscow Domodedovo Airport, ranked as Russia's best airport, together with AirBridgeCargo demonstrated to aviation photography enthusiasts the entire cycle of air cargo logistics. Bloggers were offered an opportunity to see cargo operations, typically hidden from the eyes of passengers, to capture the scale and technology of the airport's cargo terminal.
Moscow Domodedovo Airport regularly invites aviation photography enthusiasts giving them an opportunity to take dazzling pictures. This time, the participants were given a guided tour of the cargo terminal capable of handling 650 tons per day of any cargo approved for air carriage.
"I was deeply impressed. This is an unusual and amazing experience for any aviation photography fan. The angle of view is different: the majority associate an airport with its passenger terminal, with people, but a cargo terminal is a completely different world, a different format with its own dynamics. Described with a single word - it's the scale that impresses," shared his impressions Lev Stolyarevsky, a blogger.
The hi-tech cargo terminal at Moscow Domodedovo Airport is one of the best in Russia in terms of handling quality of air cargo and mail. The cargo facility has dedicated storage areas for explosives, valuable, radioactive, and perishable items. When valuable cargo is handled, enhanced security measures and special processes apply. Storage uses state-of-the-art technology.
The chance to take pictures of the cargo aircraft handling process was given to the event participants by AirBridgeCargo, a leader of the Russian air cargo industry and one of the leading international operators active in this market segment. AirBridgeCargo is the largest freight company in Russia and a longtime partner of Moscow Domodedovo Airport.
Media contacts:
Alexander Vlasov
Tel.: +7 (495) 795 34 27
pr@dme.ru
http://www.dme.ru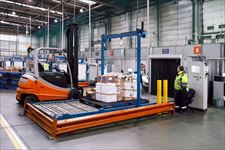 Moscow Domodedovo Airport is one of the largest Russian air hubs ranked in Russia's Air Gateway rating as the best airport in Russia. In 2016, the airport served 28.5 million passengers. The route network includes 72 destinations. Members of the world's leading airline alliances - Star Alliance and oneworld - have chosen Moscow's Domodedovo International Airport for their flights to and from Moscow. Moscow Domodedovo Airport is Russia's only airport regularly handling flights operated on Airbus A380, Airbus A350-900 and Boeing 787 Dreamliner.
Photo by Ilya Martemyanov