News
15 апреля 2019 15:46
Moscow Domodedovo Airport launches 'You are the Destination' art exhibition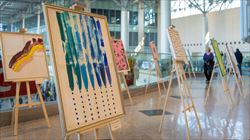 Photo credit: Alexey Prikhodko.
15 April 2019. Moscow Domodedovo Airport, Moscow region. Moscow Domodedovo Airport has launched Arina Labikova's exhibition on the World Day of Culture. The exclusive exhibit, titled 'You are the Destination', is running at the terminal until May 13, 2019.

Moscow Domodedovo Airport displays paintings in the eastern atrium on the terminal's first floor. Atrium's height reaches 22 meters. Its glass façade creates open and free art spaces with natural lighting revealing textures and shapes in Labikova's paintings.
Labikova's works reflect the transformation of a person starting a journey to explore his or her limits and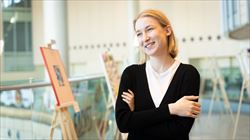 Photo credit: Alexey Prikhodko.
change. On the voyage, we will encounter our memories and dreams, premonitions and hopes. The exhibition serves as a starting point for millions of passengers to explore inner alterations and make discoveries at the destination.

"Labikova's works are sensual, full of different feelings and energy. Her paintings capture raw emotions and treat it with the outmost delicacy. Alina embraces colors to express her thoughts and communicate with the world", said fine art expert and curator at DAS agency Anna Zachinyaeva-Tsvetkova. Mrs. Zachinyaeva-Tsvetkova added that bright spots allow the artist to transmit the riches of the world and singularity of a human's soul.

For further media inquiries, please contact:
Alexander Vlasov
Tel.: +7 (495) 795 34 27
pr@dme.ru
http://www.dme.ru

Moscow Domodedovo Airport is one of the largest air hubs in Russia. Members of the world's leading airline alliances including Star Alliance and Oneworld have chosen Moscow Domodedovo Airport for their flights to and from Moscow. Moscow Domodedovo Airport is the only airport in Russia handling flights operated by Airbus A380 and Airbus A350-900 on an ongoing basis.