News
23 июля 2019 14:53
The first Our Podmoskovye Tourist Information Center launches at Moscow Domodedovo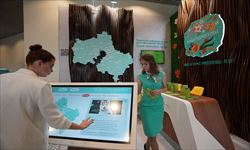 23 July, 2019. Domodedovo, Moscow region. Moscow Domodedovo Airport hosted an opening ceremony for the first Our Podmoskovye Tourist Information Center. The event attracted over 100 people, including passengers and guests as well as airport representatives and local officials.

The recently opened Our Podmoskovye is situated on the second floor of the terminal building. The center will be open from 8 a.m. to 9 p.m.

Discover how to get around the Moscow region at the Our Podmoskovye Tourist Information Center. The team will provide passengers and guests with information about the best routes for art, gastronomy or active holidays in the Moscow region.

For further media inquiries, please contact:
Alexander Vlasov
Теl.: +7 (495) 795 34 27
pr@dme.ru
http://www.dme.ru

Moscow Domodedovo Airport is one of the largest air hubs in Russia. In 2018 the airport served 29.4 million passengers. Members of the world's leading airline alliances including Star Alliance and Oneworld have chosen Moscow Domodedovo Airport for their flights to and from Moscow. Moscow Domodedovo Airport is the only airport in Russia handling flights operated by Airbus A380 and Airbus A350-900 on an ongoing basis.