News
31 October 2018
Direct Oman Air flight to Domodedovo has connected Muscat and Moscow for the first time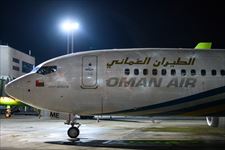 Фото: Евгений Гнесин
31 October, 2018. Domodedovo, Moscow region. On Tuesday Moscow Domodedovo Airport welcomed the first regular passenger flight to Moscow from Muscat, the capital of the Sultanate of Oman. The unique destination has been inaugurated by Oman Air – the award winning national carrier for the Sultanate of Oman – which has entered the Russian market for the first time.

«We are delighted to welcome our new partner Oman Air which has introduced a new ambitious route for the Russian tourists. Also, our passengers will have access to the airline's extensive network connecting Oman's capital with the resorts in the Middle East, Asia and Africa» said Mr. Igor Borisov, CEO at Moscow Domodedovo Airport.

Passengers arriving in Muscat have an opportunity to make connecting Oman Air flights to popular touristic destinations such as Thailand, Maldives, Philippines, Indonesia and Indian resort Goa within two hours upon their arrival.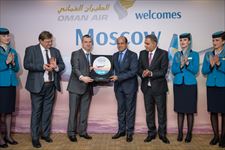 Фото: Евгений Гнесин
Eng. Abdulaziz Al Raisi, Chief Executive Officer of Oman Air, said: «The daily flight to Moscow Domodedovo Airport will be operated by a Boeing 737 MAX, offering 12 seats in Business Class and 150 in Economy. The aircraft will be equipped with leading technology, latest in comfort and amenities, including cutting edge entertainment to enhance the travel experience of our guests. This newly launched route will be the only non-stop operation between Russia and Oman benefitting both business and leisure travellers, in addition to offering seamless connections via Oman Air hub to destinations across the globe».

Oman Air Company has become the 6th partner of the Airport which is ranked by Skytrax among the top 10 airlines in the Middle East.

Contact person for media inquiries:
Alexander Vlasov
Tel.: +7 (495) 795 34 27
pr@dme.ru
http://www.dme.ru

Moscow Domodedovo Airport is one of the largest Russian air hubs ranked in Russia's Air Gateway rating as the best airport in Russia. In 2017, the airport served 30.7 million passengers. The route network includes 66 unique destinations. Members of the world's leading airline alliances - Star Alliance and oneworld have chosen Moscow Domodedovo Airport for their flights to and from Moscow. Moscow Domodedovo Airport is Russia's only airport regularly handling flights operated by Airbus A380 and Airbus A350-900.