News
30 апреля 2021 12:30
Moscow Domodedovo Airport Announces Leadership Changes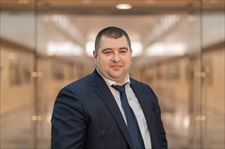 Andrey Pavlov has been named the new Domodedovo airport director. He has been working at the company since 2005 and achieved excellence in managing the company's airside business unit and airfield infrastructure while maintaining safe and punctual air traffic.
As managing director at DOMODEDOVO AIRFIELD FACILITIES, Andrey Pavlov crafted a long-term strategy for the airfield infrastructure development, prepared a concession contract, and implemented airport operators' projects under the agreement of co-investment activities, meeting the goals of the state-funded program Development of the Transport System of Russia (2010-2021).
The company thanks Igor Borisov for his contributions. Mr. Borisov has been a key Domodedovo Airport leader over the past 11 years and carried out the major T2 terminal expansion project. The terminal area was expanded before the 2018 FIFA World Cup. Under his leadership, the company achieved record-setting operational results, introduced high-class digital passenger services, and received multiple national and international industry awards. In 2020 Domodedovo Airport made it to Europe's ten busiest airports.
Igor Borisov remains part of Domodedovo's leadership team but will take on a different role.
For further media inquiries, please contact:
Alexander Vlasov
Phone: +7 (495) 795 34 27
pr@dme.ru
http://www.dme.ru
Moscow Domodedovo Mikhail Lomonosov Airport is one of the largest air hubs in Russia. In 2020, the airport served 16.4 million passengers. Members of the world's leading airline alliances including Star Alliance and oneworld have chosen Moscow Domodedovo Airport for their flights to Moscow.