News
29 апреля 2021 17:02
New Airbus A350 of Ethiopian Airlines was met at Domodedovo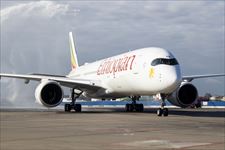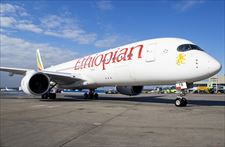 Ethiopian Airlines' A350 that arrived to Russia for the first time was met at Moscow Domodedovo Airport. Domodedovo is the only one airport in the country that serves this type of aircraft on regular basis.
A350-900, the most modern Airbus aircraft that accommodates more than 300 passengers, made a direct flight on the route Moscow – Addis-Abeba. The carrier operates regular flights on Tuesdays, Thursdays and Saturdays. Arrival at the airport is at 08:15, departure is at 21:30 (Moscow time).
Improved noise insulation, an increased humidity level, intelligent cabin lighting, a personalized entertainment system are in Airbus 350 cabin. All this allows passengers to make their flight as comfortable as possible. For business class travelers additional comfort is provided by fully reclining chairs and enlarged monitors.
Domodedovo and Ethiopian Airlines have been cooperating since 2018. During this time, the companies transported more than 37 thousand passengers. Since January 2021, the air company restored its flight frequency to the level of 2019.
For further media inquiries, please contact:
Alexander Vlasov
Phone: +7 (495) 795 34 27
pr@dme.ru
http://www.dme.ru
Moscow Domodedovo Mikhail Lomonosov Airport is one of the largest air hubs in Russia. In 2020, the airport served 16.4 million passengers. Members of the world's leading airline alliances including Star Alliance and oneworld have chosen Moscow Domodedovo Airport for their flights to Moscow.