News
10 октября 2019 11:48
Lufthansa, Austrian Airlines and SWISS extend contract with Domodedovo airport for five more years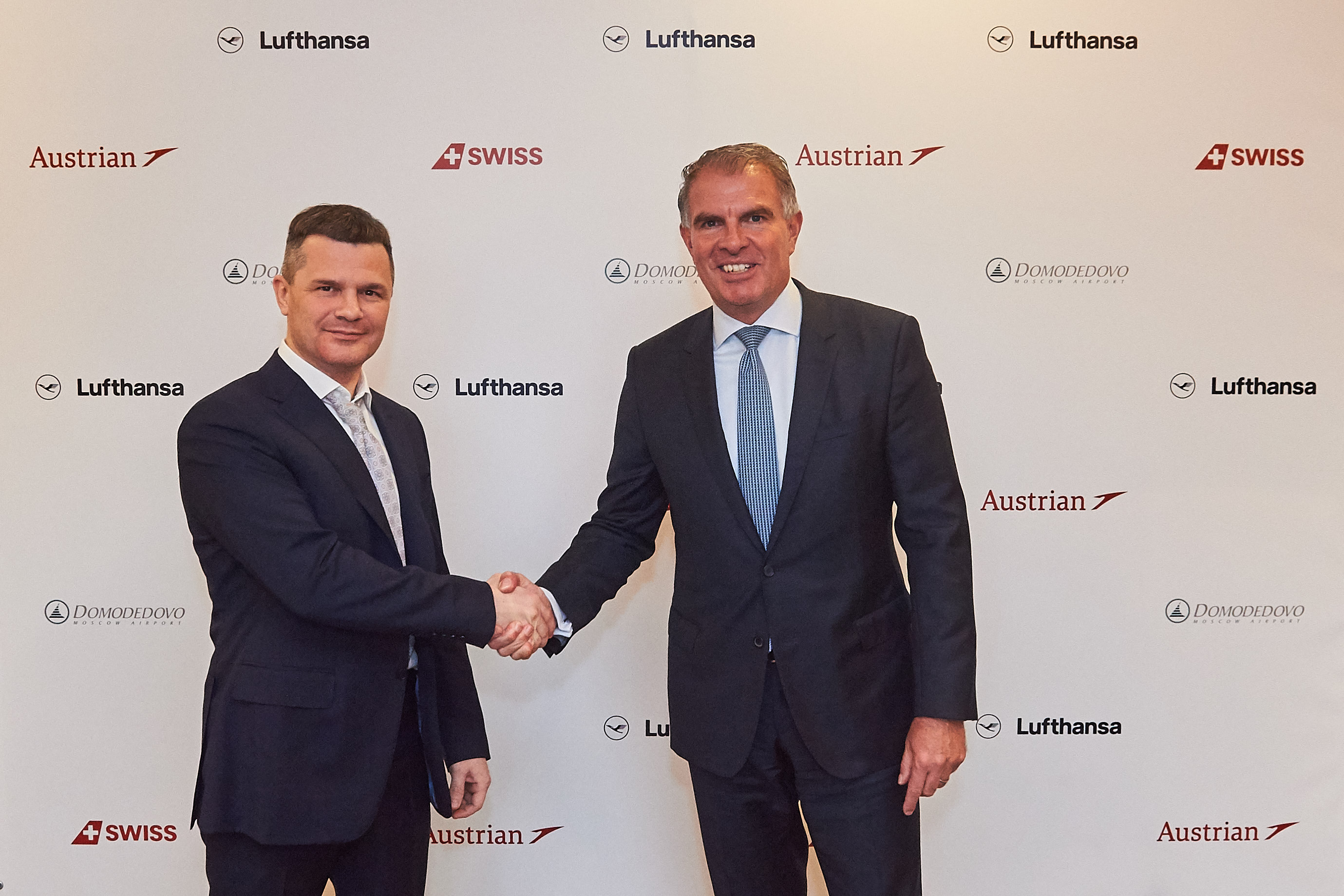 Following a full assessment of all major airports in Moscow, Lufthansa Group hub carriers Austrian Airlines, Lufthansa and SWISS have made the decision to continue operations at Domodedovo airport. Furthermore, the partnership contract with the airport operator has been extended for another five years, until 2025. Carsten Spohr, Chairman of the Executive Board of Deutsche Lufthansa AG and Dmitry Kamenshchik, Chairman of the Board, Moscow Domodedovo Airport, have met today at Domodedovo airport to further discuss this cooperation.

"Domodedovo airport is the best choice for Lufthansa Group hub carriers operating to Moscow" said Carsten Spohr. "We are convinced that our passengers will find the best premium travel experience on the ground at Domodedovo Airport. Our cooperation with the airport has been very successful, as we receive great support and the infrastructure we need.".

Lufthansa Group cooperates with S7 Airlines (S7), enabling passengers of Austrian Airlines, Lufthansa, and SWISS to book onward connections with S7 to regional destinations in Russia.


Фото: Дмитрий Осипов
"The history of cooperation between Lufthansa Group and Domodedovo proves our business model provides a fruitful soil for the sustainable development of our partners. We appreciate the choice of our colleagues, and we are confident that Domodedovo's systematic approach to the improvement of knowledge, technologies, and infrastructure will enhance Lufthansa Group's position in the Russian Market", said
Dmitry Kamenshchik
.
In the upcoming winter schedule (beginning 27 October 2019) Lufthansa, Austrian Airlines and SWISS will offer 73 weekly connections out of Moscow-Domodedovo. Lufthansa Group is the leading Western European airline group in Russia.
Lufthansa Group has been operating flights to and from Domodedovo since 2001. In partnership with DME, Lufthansa Group has served 13.9 million passengers and 126 thousand flights.
Moscow Domodedovo Airport is one of the largest air hubs in Russia. In 2018, the airport served 29.4 million passengers. Members of the world's leading airline alliances including Star Alliance and oneworld. have chosen Moscow Domodedovo Airport for their flights to and from Moscow. Moscow Domodedovo Airport is the only airport in Russia handling flights operated by Airbus A380 and Airbus A350-900 on an ongoing basis.