News
11 сентября 2023 17:10
Cradle of humanity: a photo exhibition dedicated to Ethiopia has opened at Domodedovo Airport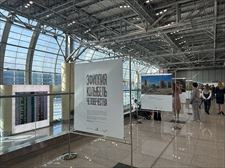 Moscow Domodedovo Airport presented to passengers a photo exhibition "Ethiopia — the cradle of humanity". The event was organized jointly with the Embassy of the Federal Democratic Republic of Ethiopia and the partner of the air harbor, Ethiopian Airlines, and is timed to coincide with the celebration of the Ethiopian New Year. His Excellency Mr. Cham Ugala, Ambassador of the Federal Democratic Republic of Ethiopia to the Russian Federation, addressed the visitors with a welcoming speech at the opening ceremony of the exhibition.
The thematic exhibition presents 14 photographs reflecting the flavor of the African continent and the unique culture of Ethiopia. The country is famous for its rich fauna, a variety of natural landscapes, ancient history, and is also the birthplace of coffee. On the opening day, the organizers prepared a surprise for travelers — everyone could take part in the coffee ceremony and taste an Ethiopian traditional drink.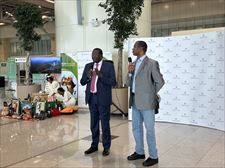 "In 2018, Domodedovo Airport and Ethiopian Airlines gave travelers the opportunity to make direct flights to one of the most amazing countries in the world — Ethiopia. One of the oldest areas of human habitation was located on the modern territory of the state, and the republic itself is often called the "cradle of humanity". Passengers and guests of Domodedovo Airport can learn this and other interesting facts about one of the largest states on the African continent at our exhibition and, inspired by the exposition, go to the capital of Ethiopia – Addis Ababa. Over the past year alone, 68 thousand people have made a trip to this unique destination for the Moscow aviation hub," said Yulia Shadrina, Director of Marketing Communications.
"Ethiopia is a unique country, offering a wide variety of excursions for any travelers. Ethiopia is also attractive for tourists during the STOPOVER program in Addis Ababa. Ethiopian Airlines operates flights to Addis Ababa from Domodedovo Airport 4 times a week: on Tuesdays, Thursdays, Fridays and Saturdays. The airline plans to increase the frequency of flights to 5 per week starting from December 13 this year in order to offer passengers more choice of connecting flights," said the head of Ethiopian Airlines in Russia and CIS countries, Mr. Michael Endale.
Travelers can view the photo exhibition on the second floor of the new segment of the passenger terminal intended for servicing international flights — T2. The exhibition will be available until September 25.
Contacts of the press office of the Moscow Domodedovo Airport:
Тел.: +7 (495) 795 34 27,+7 (903) 750 34 04
pr@dme.ru
www.dme.ru

Moscow Domodedovo Airport named after M.V. Lomonosov is one of the largest air hubs in Russia. In 2022, traffic amounted to 21,2 million passengers. Domodedovo was chosen for flights to Moscow by members of the world's leading aviation alliances - Star Alliance and oneworld.