News
21 мая 2019 09:51
Ural Airlines to add two new French routes from Moscow Domodedovo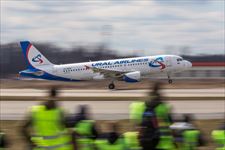 Photo credit: Marina Lystseva
21 May, 2019. Domodedovo, Moscow region.Moscow Domodedovo Airport has announced the introduction of direct flights to Bordeaux and Montpellier. From 1 June 2019, Ural Airlines will fly three times a week on Mondays, Thursdays, and Saturdays from Moscow Domodedovo Airport to Bordeaux. From 2 June 2019, Ural Airlines will also add Moscow Domodedovo-Montpellier route. The flight will operate three times a week on Wednesdays, Fridays, and Sundays.

Bordeaux and Montpellier are unique destinations for Moscow aviation hub. Situated close to the Atlantic coast, the city of Bordeaux is a center of the overarching Bordeaux wine region. Moreover, Bordeaux is the most popular tourist destination in France. Known as a university town, Montpellier is a part of the Languedoc-Roussillon wine region. Located near the south coast of France on the Mediterranean Sea, the city is famous for its art galleries and monuments of the past.

Ural Airlines and Moscow Domodedovo Airport have been cooperating for more than a quarter century. Over the past ten years, the airline has served 27 million passengers at Moscow Domodedovo Airport and operated 200 thousand airfield operations. Ural Airlines' network from Moscow Domodedovo Airport includes north of fifty regular and charter destinations. The compound annual growth rate of the airline's passenger traffic amounted to 23% from 2009 to 2018.


For further media inquiries, please contact:
Alexander Vlasov
Tel.: +7 (495) 795 34 27
pr@dme.ru
http://www.dme.ru

Moscow Domodedovo Airport is one of the largest air hubs in Russia. Members of the world's leading airline alliances including Star Alliance and Oneworld have chosen Moscow Domodedovo Airport for their flights to and from Moscow. Moscow Domodedovo Airport is the only airport in Russia handling flights operated by Airbus A380 and Airbus A350-900 on an ongoing basis.