News
04 июня 2019 12:04
Singapore Airlines and Moscow Domodedovo Airport celebrate the second anniversary of flights between Moscow and Stockholm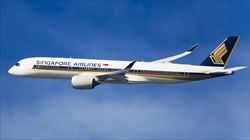 4 June, 2019. Domodedovo, Moscow region. Singapore Airlines and Moscow Domodedovo Airport commemorate two years since the launch of regular operations on the route Singapore (SIN) – Moscow (DME) – Stockholm (ARN).

"We are offering Russian passengers comfortable flights to Stockholm as well as an opportunity to enjoy Singapore Airlines' legendary service. We are delighted to celebrate this special anniversary and express our gratitude to both our clients and partners for their extensive support", said general manager of Singapore Airlines in Russia Biren Poh.

"We are glad that passengers appreciated the new route are turning to it for their flights between Europe and Asia. It is a unique destination for the Moscow aviation hub strengthening Domodedovo's attractiveness for connecting flights thanks to our partners from Singapore airlines. We are confident that the route has a strong potential for further growth", claimed Moscow Domodedovo CEO Igor Borisov.

Since 2017 the passenger traffic on the route has amounted to 86 thousand people. The innovative Airbus A350-900 carries out flights to Sweden's capital five times a week on Mondays, Tuesdays, Thursdays, Fridays, and Saturdays.

Moscow Domodedovo Airport and Singapore Airlines have been cooperating since 2006. In partnership with Singapore Airlines, the airport has served 1.8 million passengers.

For further media inquiries, please contact:
Alexander Vlasov
Tel.: +7 (495) 795 34 27
pr@dme.ru
http://www.dme.ru


Moscow Domodedovo Airport is one of the largest air hubs in Russia. In 2018 the airport served 29.4 million passengers. Members of the world's leading airline alliances including Star Alliance and Oneworld have chosen Moscow Domodedovo Airport for their flights to and from Moscow. Moscow Domodedovo Airport is the only airport in Russia handling flights operated by Airbus A380 and Airbus A350-900 on an ongoing basis.