News
10 февраля 2016 17:47
Influx by Moscow Domodedovo Airport Wins National Award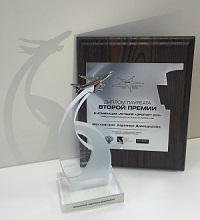 On February 9, 2016, Moscow Domodedovo Airport won at the 2nd National Awards Russia's Air Gateway in the special category "Investments in the Talent Pool." The judging panel awarded the large-scale project of talent development Influx.
The talent development project was launched by Moscow Domodedovo Airport in 2000. Over the 15 years, Influx has had more than 3,000 participants and is still expanding its outreach.
The list of educational institutions partnering with Moscow Domodedovo Airport as part of Influx is still growing. Currently, the Influx partners of Moscow Domodedovo Airport are Domodedovo Campus of the Russian State University for the Humanities, the Peoples' Friendship University of Russia, Tsaritsyno Moscow College of Management, Hospitality, and IT, Moskovia Vocational College, the Humanities College at Domodedovo Campus of the Russian State University for the Humanities.
Partnership between Moscow Domodedovo Airport and educational institutions contributes to better teaching and continuous professional development: the training center at Moscow Domodedovo Airport employs full-time professional instructors to train employees and Influx participants.
In addition to the special award, Moscow Domodedovo Airport won the 2nd award in the category Best Airport 2015. Russia's Air Gateway awards ceremony was held as part of the 3rd National Aviation Infrastructure Show NAIS - 2016.
Notes to the editor:
The national awards Russia's Air Gateway was established last year by the NAIS organizing Committee, Federal Air Transport Agency, and the industry portal AVIA.RU with the aim of forming a positive image of airports and improving their business reputation among the public, identifying and encouraging the most efficient and quickly growing airports in the Russian Federation.
Moscow Domoedovo Airport is one of Russia's largest aviation hubs. In 2015, the airport handled 30.5 million passengers. According to Skytrax rating, it is the best airport in Russia and the CIS. Members of the world's leading airline alliances - Star Alliance and oneworld - have chosen Moscow's Domodedovo International Airport for their flights to and from Moscow.