News
17 марта 2016 15:30
Moscow Domodedovo Airport Ranked Best in Russia and CIS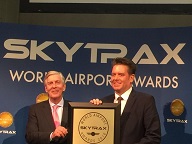 For the seventh time, Moscow Domodedovo Airport has won the prestigious Skytrax award "The Best Russian and CIS Airport." The official World Airport Awards ceremony was held on March 16, 2016 in Cologne. One of the most prestigious awards in the aviation industry was presented by Mr. Edward Plaisted, CEO at Skytrax, to Mr. Daniel Burkhardt, Deputy Director of Non-Aviation Business at Moscow Domodedovo Airport.
The annual rating by the independent British agency Skytrax results from a quality of service assessment based on reviews by millions of air travelers - that is why this award is also known as the Passenger's Choice Awards.
The survey conducted from June 2015 to February 2016, was taken by more than 13 million passengers at 550 airports worldwide. Each participant filled out a assessment of the airport's services on a number of criteria - from the moment of entering the passenger terminal to departure.
The main advantage of the survey by Skytrax is its objectivity - no airport can influence the survey and its results. Moscow Domodedovo Airport would like to express gratitude to its passengers whose trust and recognition have allowed the airport to once again win "The Best Russian and CIS Airport" award.
Moscow Domodedovo Airport pays close attention to long-term development projects: over the last 20 years, RUB 50 billion was invested by the airport, of which RUB 31 billion into construction projects.
Construction of a new segment of the passenger terminal T2 is underway. By the time the FIFA World Cup opens in 2018, total investment volume in T2 will exceed RUB 27 billion.
Notes to the editor:
Skytrax is an influential independent research and consulting company founded in 1989 in the UK and specializing in the study of the quality of services provided by airlines and airports through ranking and benchmarking (defining, understanding, and adapting existing examples of efficient functioning from other businesses to improve one's own operations) the efficiency of airlines and airports.
Moscow's Domodedovo International Airport is one of Russia's largest aviation hubs. In 2015, the airport handled 30.5 million passengers. According to Skytrax rating, it is the best airport in Russia and the CIS. Members of the world's leading airline alliances - Star Alliance and oneworld - have chosen Moscow's Domodedovo International Airport for their flights to and from Moscow.