News
28 марта 2017 14:51
Domodedovo Ranked the Best Russian Airport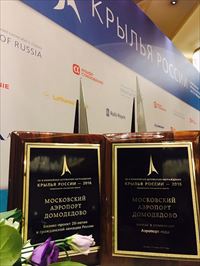 March 28, 2017, Domodedovo, Moscow Region. Moscow Domodedovo Airport won in two categories at the 20th Anniversary Wings of Russia Awards. Moscow Domodedovo Airport won in the categories Airport of the Year 2016 and Two Decades' Project in Civil Aviation.
"We are delighted to be a winner at the prestigious Wings of Russia Awards. Recognition of colleagues and industry experts, who have once again highly praised the contribution by Moscow Domodedovo Airport to the aviation industry, motivates us to work with renewed vigor. We are particularly proud to receive the award acknowledging not only our performance in 2016, but also achievements over the entire 20 years of the Awards. Over this period, we have come a long way offering radically improved experiences to both air travelers and airlines. There are new challenges ahead. We are actively preparing for the 2018 World Cup, and by its opening we will have completed one of our most ambitious projects - the new segment of the passenger terminal T2," said Mr. Igor Borisov, CEO at Moscow Domodedovo Airport.
The Airport of the Year 2016 award was the second highest achievement by Moscow Domodedovo Airport in 2016. Earlier, Moscow Domodedovo Airport was named Russia's best airport in Russia's Air Gateway ranking, where it won in the main category "Best Airport 2016."
20th anniversary Wings of Russia Awards ceremony took place on March 27. Award winners and prize recipients included 38 Russian and one foreign airline. Award winners are chosen by secret ballot by expert groups assessing airlines, first of all, in terms of economic efficiency.
Media contacts:
Alexander Vlasov
Tel.: +7 (495) 795 34 27
pr@dme.ru
http://www.dme.ru
Moscow Domodedovo Airport is one of the largest Russian air hubs ranked in Russia's Air Gateway and Wings of Russia ratings as the best airport in Russia. In 2016, the airport served 28.5 million passengers. The route network includes 72 destinations. Members of the world's leading airline alliances - Star Alliance and oneworld - have chosen Moscow's Domodedovo International Airport for their flights to and from Moscow. Moscow Domodedovo Airport is Russia's only airport regularly handling flights operated on Airbus A380, Airbus A350-900 and Boeing 787 Dreamliner.
Wings of Russia Awards were first presented in 1997 by the Russian Association of Air Transport Operators, the industry magazine Air Transport Review, and the consulting company Infomost. The award promotes the consolidation and development of the professional community and supports the prestige of the civil aviation. A distinctive feature is final scoring by integrating the individual assessments by multiple experts in the field of civil aviation, including representatives of public and private industry companies, aviation authorities, and the media.