News
12 February 2015
Praise from Travelers: Domodedovo Won Russia's Air Gateway Award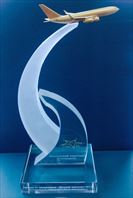 At the first Russia's Air Gateway awards ceremony, Moscow Domodedovo Airport was named Moscow's best airport in the category "Passengers' Special Award." Most of the travelers who took part in the Internet vote chose Moscow Domodedovo Airport, making it the winner in the category "Best Airport - 2014, Moscow's International Airports."
The national awards Russia's Air Gateway were presented for the first time: Russian airports, airfields, heliports, air traffic control centers, management companies, as well as design, investment, and development companies building and reconstructing airports competed in 15 categories. To identify the most efficient air transport infrastructure projects, they were ranked by the infrastructure capabilities of the airport complex, transport accessibility, transportation safety technology status, social responsibility, as well as the innovative approach to passenger services.
The annual national awards Russia's Air Gateway were presented at the National Aviation Infrastructure Show (NAIS&CA).
Mr. Alexey Yarosh, Director for Aviation Marketing at Moscow Domodedovo Airport
, shared insight into competition trends on the ground handling markets.
"Moscow Domodedovo Airport has managed to achieve a balance between the participants of the passenger services market. Key organizational, technical, and process aspects of interaction with third-party operators have been developed and procedures for selecting and monitoring the operators' performance have been designed. Accounting systems are being configured and infrastructure sharing systems for operators are being developed. All these efforts are aimed at opening the market," — stressed Mr. Yarosh.
Moscow Domodedovo Airport is Russia's largest aviation hub. In 2014, the airport handled 33.04 million passengers. According to Skytrax rating, it is the best airport in Russia and the CIS. Members of the world's leading airline alliances - Star Alliance and oneworld - have chosen Moscow's Domodedovo International Airport for their flights to and from Moscow.